Brickvention 2022 was held on January 8 & 9 at the Melbourne Sports and Aquatic Centre, Albert Park.
Melbourne LEGO® User Group
We are a recognised LEGO User Group and a thriving community meeting in Melbourne's northern suburbs.
Thanks for joining us at Brickvention 2022!
Subscribe for the latest news to hear announcements about Brickvention 2023.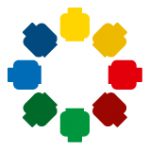 Brickvention is a Recognised
AFOL Networking Event